Our team has crafted a culture designed around full transparency, reliable communication, and technology for both Owners and Tenants. The monthly management fee is 10% of the gross monthly rent collected.
Investment Focused Property Managers
Honest and
Affordable!
You've found the best property manager.
Pricing & Services
10
%
/month
Full Service Property Management
Professional Advertising Photos
Inspections, Maintenance & Turnover
Rent Collection & Accounting
Financial Reports & 1099-MISC
HOA Communication & Compliance
Lease Enforcement & Renewals
Nevada Landlord Legal Compliance (NRS 118-118A)
Full Service Property Management:
Market analysis for strategic rent rate
Professional advertising photos
Advertising on main rental sites
Advertising to 14,000+ local agents
Property Showings
Detailed Online Application
Credit & Background Checks
Eviction Checks
Scoring Card for Tenant Screening
Professional Pet Screening
Tenant Selection
Lease Preparation and Signing
Move-in Condition Report
500+ time-stamped move-in photos
Holding of security deposit
Tenant utility set-up (electric, gas, water)
Online rent collection
Detailed Tenant Statements
Access to Online Resident Center
HOA communication
Serve and send Tenant notices
Lease renewals
Lease Enforcement
Proprietary Tenant Handbook
Tenant Communication
Notes kept on all tenants and properties
Processing of security deposit transmittal
Law Offices of Ed Kania on Retainer
Legal Counsel Christal Park Keegan, Esq.
General Counsel Tiffany Banks
and more...
Troubleshoot maintenance issues with tenants
Assign work orders to vendors
Turnover make-ready coordination
Coordinate maintenance inspections
24/7 emergency maintenance service
Keep quality working relationships with vendors
Coordination with insurance when necessary
Work order and invoice records for all work
and more...
Holding reserve funds for emergencies
Payment of maintenance invoices for property
Owner payments via direct deposit by the 10th
Monthly accounting and financial reporting
Yearly accounting and financial reporting
Detailed owner statements
1099-MISC submittal for property owners
1099-NEC submittal for vendors
Payment of recurring bills for property
and non-recurring bills for property
and more...
" My practice keeps me busy and fully engaged in my career. For the past 10 years Rice Real Estate has managed three Summerlin & Henderson investment properties for me. Without Heidi's support and guidance, I would not own investment property in Las Vegas – it's her specialty, not mine."
We're the
Premier
residential property management company in Vegas.
Investment property ownership is rewarding but maintenance and tenant management can be a challenge to navigate. It's time to turn your rental property over to a trustworthy, experienced partner like Rice Real Estate & Property Management.
It's time to hire a better Property Manager.
Frequently Asked Questions
What is the applicant screening process?
Our strongest work must take place with the screening process. Securing great tenants is in everyone's best interest. Using our proprietary scoring card we analyze income, credit worthiness, debt to income ratio, rent payment history, cash reserves of monthly rent, employment history, address history, identity fraud, criminal records, eviction records check and other factors that indicate the likelihood the tenant will perform according to his/her obligations under the lease.
Rice Real Estate is Las Vegas' premier property management company. Founded in 2010, Rice Real Estate has crafted a culture designed around full transparency and reliable communication for both owners and tenants. Our policies and procedures provide security and allow us to focus on the profitability of your property and tending to the needs of your tenants.
Wondering what your home could rent for?
It's higher than you think!
Our team is driven to safeguard your property and bottom line at all times.
Property Marketing
We pride ourselves on getting our properties rented quickly. Avg. days on market is 14 days.
Rent
Tenants can pay rent online using an encrypted and securely transmitted payment platform.
Financial Reporting
We generate detailed monthly and yearly accounting and financial reporting.
Tenant Screening
We have never had to evict a Tenant we screened and placed into a managed rental property.
Maintenance
We coordinate repairs with vendors, process all billing, and document the expense for you.
HOA
We resolve HOA violations while keeping HOA & Owner updated in a timely manner.
5 Step Process of Hiring A Property Manager
Let Us Help You Rent Your Home.
We know your time should be spent enjoying life rather than self managing an investment property from another state.
Step # 1: Discuss your goals and get to know us
Step # 2: Property Manager Views Interior
Step # 3: Rental Analysis and Comparables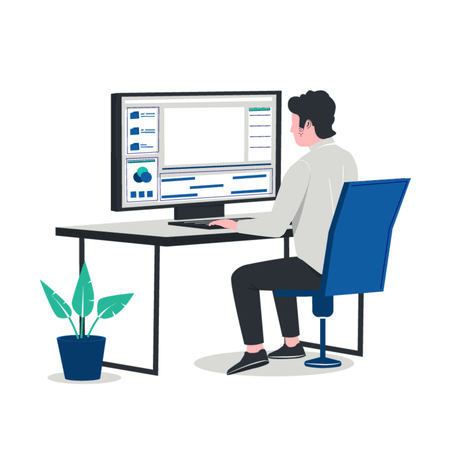 Step # 4: Sign Management Agreement via DocuSign
Step # 5: Onboarding and Marketing your Property
We manage with an
Owner's Mindset.
Organized. Responsive. Detailed.™
Focused on Profitability.
We manage with an Owner's mindset and quickly turn properties over to find quality Tenants within 7-14 days. We have never had to evict a Tenant we screened and placed into a managed rental property.
Detailed Accounting.
We offer complete transparency with your account. We email easy to understand monthly statements, handle all accounting, disburse rent via direct deposit, and offer a 24/7 encrypted online portal for financial reports.
Guaranteed.
You do not pay anything until your property is rented. If you are not happy, give us a call & we will make it right. If you are not satisfied after our attempts to resolve your concerns, we will cancel the agreement with no repercussions.